There's a lot riding on our reputation
Because the industries we serve demand the highest levels of quality, safety, reliability, and innovation, everything we do embodies our passion for building the best trailers in North America. When it comes to mission-critical applications and rough operation conditions, our customers can focus on their core operations knowing that peace of mind comes standard with SteelPoint.
Trailers
SteelPoint has a proven track record of providing tough, functional trailers and fabrication services for the industry, and you can see our commitment to excellence in our designs, including extra cross members and easy-to-replace wear parts. Moving forward, we will continue to design and build a range of products, including equipment trailers, tilt trailers, dump trailers, and hydraulically activated drop trailers.
Rental
For a trailer, there's nothing more punishing than a rental fleet. We've served this challenging segment since 2008, and our trailers can be found in the equipment, power and pump sections of the leading rental houses in the US and Canada. To help our customers protect and extend the life of their assets, we build trailers that last for years and make fleet maintenance easy.
Power Generation
When you need to deliver mobile power generation solutions for mission-critical projects in any environment, SteelPoint can help you get there. We have developed a range of trailers for the portable power industry from 3,000 to over 30,000 lbs. In addition, we support complete fleets of trailers from the smallest no-brake-required trailer to the triple axle gooseneck or kingpin.
Pump
Trailer-mounted pumps play an essential role in a number of industries, including construction, fire suppression, and oil & gas, and we have developed a range of trailers to support different fluid handling and boosting applications. From 3,000 to 26,000 lbs., and the smallest no-brake-required trailer to the large rugged pump system, we support complete fleets of trailer pumps.
Energy and Environmental Services
There's a reason leading manufacturers of trailer-mounted solar power systems rely on SteelPoint trailers to provide continuous and reliable power to remote sites. With deep experience working with battery-based photovoltaics, and our ability to custom engineer trailers that support alternative energy applications, we bring a higher level of performance to transportable power.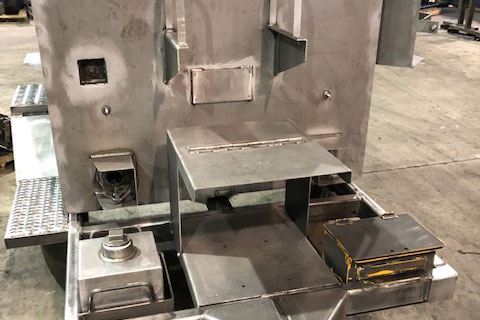 OEM and Fabrication Services
Beyond trailers, we offer major industrial equipment manufacturers who need help with large complex projects a number of different specialized metal fabrication capabilities, including the following:
Boilers
Heaters
Asphalt melting equipment
Light towers
Fuel tanks
Water tanks